You are viewing information about a past event.
Event Information
Date:
August 6th, 2019
Cost:
FREE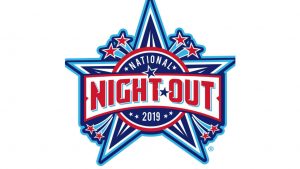 You are invited to join forces with thousands of communities nationwide for the "Annual National Night Out" (NNO) crime and drug prevention event the first Tuesday of August. Residents are asked to lock their doors, turn on outside lights and spend the evening outside with neighbors, police, fire and various community leaders.
Locations in Oconto County hosting a National Night Out are:
Oconto
Oconto Police Department
5:00- 8:00 p.m.
Meet members of the Oconto Police and Fire Departments, Information Booths from local businesses and Agencies, Food Booth, Merline's Face Painting, DJ Music, K-9 Demonstration, Brayson's Bouncers, Water Fights and Demonstrations for Kids, View Heavy Equipment, and a Ping Pong Ball Drop at 6:00 p.m.
Lena
St. Anne Parish Church Grounds
5:00 – 8:00 p.m.
Events for Lena's National Night Out will include, Eagle 3 Flight Helicopter will arrive at 5pm, Oconto County Sheriff's Dept. K9, Tae Kwon Do demo, and Lena Fire Dept. presentation. Activities include a Coloring Contest, a chance to win a new bike, free food, cupcakes, a huge inflatable bounce house and obstacle bouncer, face painting, and other games. Also, informational booths, and special games provided by the Lena Friends of the Library committee. Lena High School's National Honor Society will be operating a dunk tank and other games. Come down and win some great prizes!
Suring
Veteran's Memorial Park
6:00 -8:00 p.m.
Meet first responders, see vehicles, activities for kids, free water and soda, music, and more! Information about crime prevention and personal safety will be provided by a number of local organizations. Meet representatives from our local Police, Fire and Emergency Responder teams and enjoy other activities.