Oconto County 4-H Clubs & Groups
Are you new to 4-H or thinking about joining? Here's some helpful tips:
Visit meetings for different clubs so you can find the best fit for your family
Introduce yourself to the club leader
Don't hesitate to ask questions
Check out the New Family Handbook (Manual para familias) which has answers to many questions.
Enroll in 4HOnline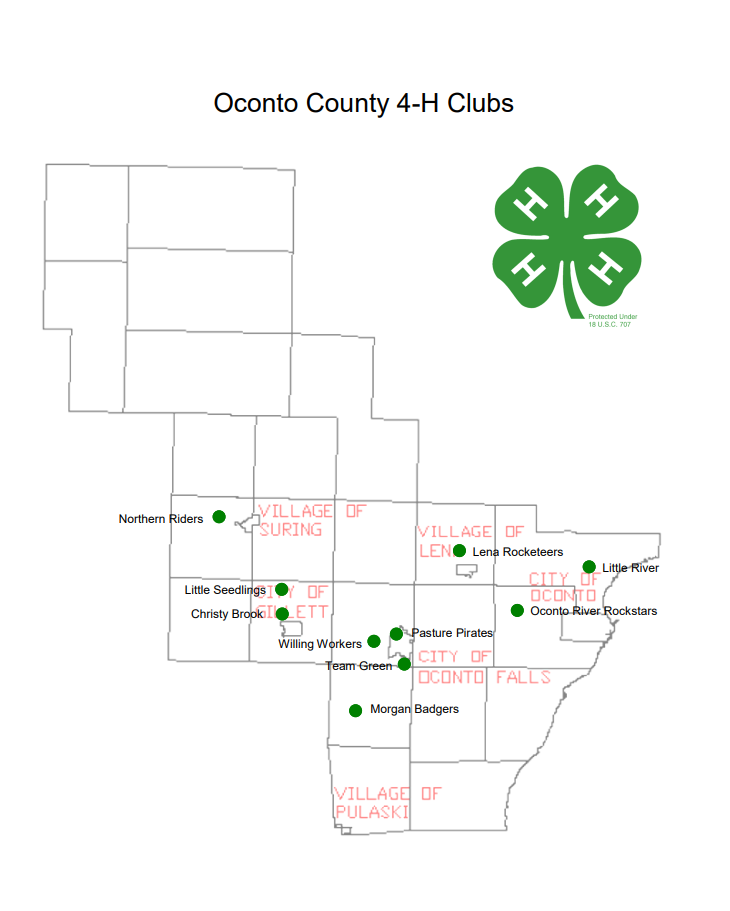 Click around below for meeting information for all of our clubs and groups in Oconto County!
Club

Contact

Meeting Time & Place

Christy Brook
Tonia Becker (920) 897-3836
jmbecker22@yahoo.com

2nd Sunday of Month; 2:00 p.m.




Gillett Town Hall

Lena Rocketeers
Jodean Hipke (920) 829-6220
lenarockets@yahoo.com
1st Monday of Month; 6:00 p.m.
Lena High School Ag Room
Little River
Brigid McDowell (920) 834-9947


1st Thursday of Month; 6:00 p.m.




Little River Town Hall

Little Seedlings
Brooke Schaal (920) 604-2369
brooklynn248@yahoo.com

2nd Saturday of Month; 9:00 a.m.




Hillside Church

Morgan Badgers
Aprill Flores (920) 676-6136
aprillflores83@gmail.com

2nd Sunday of Month; 5:00 p.m.




St. Johns Church – Morgan

Northern Riders
Sherrie Zenk-Reed (920) 590-0390
sherrie.zenkreed@wi.usda.gov

1st Sunday of Month; 6:00 p.m.




Town of How Building

Oconto River Rockstars
Anita Sowle (612) 701-0378
info@sparkleridge.com

TBD by Club Members, Contact Leader for More Information

Pasture Pirates
Heather Rennie (920) 373-8234
heatherjoyrennie@gmail.com

3rd or 4th Sunday of Month; 6:00 p.m.




Oconto Falls Public Library

Team Green
Kent Lyng (920) 846-2097
klyng@centurytel.net

1st Friday of Month; 6:30 p.m.




Oconto Electric Cooperative Office

Willing Workers
Tanya Fabry 920-373-8642
mtfabry@hotmail.com

3rd Monday of Month; 6:00 p.m.




Oconto Falls Town Hall

Aimee Elkins – 4-H Program Educator for Oconto and Marinette Counties
Aimee Elkins 920-834-6845
aimee.elkins@wisc.edu

Monday – Friday 8:00 a.m. – 4:00 p.m. Oconto and Marinette County

Extension Oconto County Office
920-834-6845
4h@co.oconto.wi.us
Monday – Friday
8:00 a.m. – 4:00 p.m.
301 Washington St. Oconto