Regional Extension Educators Scott Reuss and Kimberly Schmidt walked a variety of alfalfa fields on Thursday, June 2nd to assess standing forage quality.  The results strongly indicate that optimum forage harvest timing is at hand for dairy farms and can take place whenever beef or heifer forage harvesting is appropriate according to weather.  There is still a bit of variance moving from south to north and caused by soil type and age of forage stand.  Grasses found in many forage fields in the area are also maturing quickly, with most species heading out.  At this stage, they lose forage quality relatively quickly and do not gain much more yield.
The results of the June 2nd survey are listed below.  This will be the last forage quality survey completed for 2022.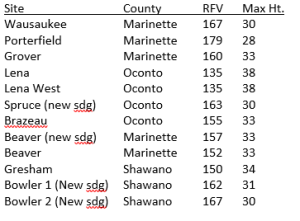 Farms that have questions for Reuss can contact him by emailing to
scott.reuss@wisc.edu
or calling/texting him at 715-701-0966.  Any farm that wants to be added to the direct contact list about Extension news or events should contact Reuss in one of these ways, as well.