Regional Crops/Soils Educator Scott Reuss walked a geographical variety of alfalfa fields on
Thursday, May 26th to assess standing forage quality.  Farms use this information to plan harvest timing of the critical first crop.  The cool, cloudy conditions of the last week kept maturation slowed down and the PEAQ (Predictive Estimated Alfalfa Quality) methodology used is actually underestimating quality a bit this year, as the leaf to stem ratio is higher than normal.  Therefore, the numbers reported below probably already account for the normal 10% quality loss at harvest.
The results do indicate that first crop alfalfa harvest for dairy farms is ready to get started in Oconto County, and most of Shawano and Marinette Counties.  As harvest is ready to begin, this will be the final full survey completed by Reuss for 2022, although he will do a northern/western subset yet next week. The results of Thursday's survey are listed below.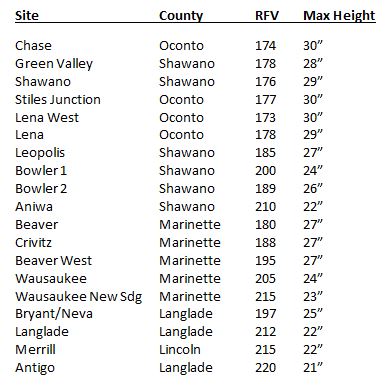 Farms that have questions for Reuss can contact him by emailing to
scott.reuss@wisc.edu
or calling/texting him at 715-701-0966.  Any farm that wants to be added to the direct contact list about Extension news or events should contact Reuss in one of these ways, as well.