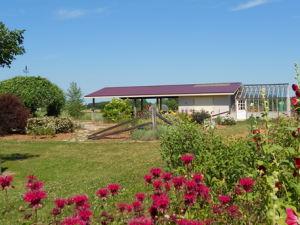 The Harmony Arboretum Demonstration Gardens are a place where all Marinette County residents and visitors can enjoy plants and local fauna, as well as learn about horticultural practices they may be able to use in their own landscapes and gardens. Thursday evening, September 2nd, from 6:30 p.m. until 8 p.m., an open house event is being conducted at the demonstration gardens to showcase the opportunities found at Harmony Arboretum, as well as the local Master Gardener Volunteer program.
The gardens are located 7 miles west of Marinette and one-half mile south of Hwy. 64 on Marinette Cty. Hwy. E (N3890 Cty. Hwy. E; Peshtigo, WI 54157). This event is cooperatively sponsored by UW-Madison, Division of Extension – Marinette & Oconto County offices and the Members of the Northern Lights Master Gardener Volunteer Association. They invite all area families and gardeners to attend the free event, as they showcase all that is happening and the activities available within the demonstration gardens.
Attendees will be able to learn about the Master Gardener Volunteer program, tour the gardens or the adjacent prairie, and also get assistance with plant pest management questions. Scott Reuss, Agriculture/Horticulture Agent, will be on hand – along with MGV's – to identify any plant pest problem samples which attendees bring to the event and help you formulate a management strategy for those issues.
If you have any horticulture questions or questions about the activities that take place at Harmony Arboretum, you can call the Marinette County UW-Extension office at 715-732-7510 or look at the horticulture web page at https://marinette.extension.wisc.edu/horticulture/ From that page, you can view more about Harmony Arboretum, review pest management articles, and link to many other topics.